Construction at Walton Arts Center is moving fast! Another phase will be completed at the end of April with the re-opening of the expanded Starr Theater and new West Avenue lobby, just in time for the Arkansas history production of Digging Up Arkansas and many wonderful performances during our 7th annual Artosphere: Arkansas' Arts and Nature Festival in May. Change is rapidly occurring, and the structure is quickly coming together.
Walton Arts Center's exterior that faces West Avenue is nearly complete. Starr Theater, which has been expanded by one third during the renovation, now also features a large window (see to the right in the image above) that will overlook the new Underwood Family Plaza. Completed by the end of spring, the plaza will be anchored by a hammered copper water feature and contain bricks engraved with the names of supporters and advocates of the arts in Northwest Arkansas. The new window in Starr Theater will allow for programming to connect to the park-like plaza in order to bring nature into the facility, but the theater will also maintain the flexibility to function as a traditional black box theater. The new West Avenue lobby (see to the left in the image above) will be open this May as well. This lobby will also connect Starr Theater to the fully expanded Atrium, which will be completed in November.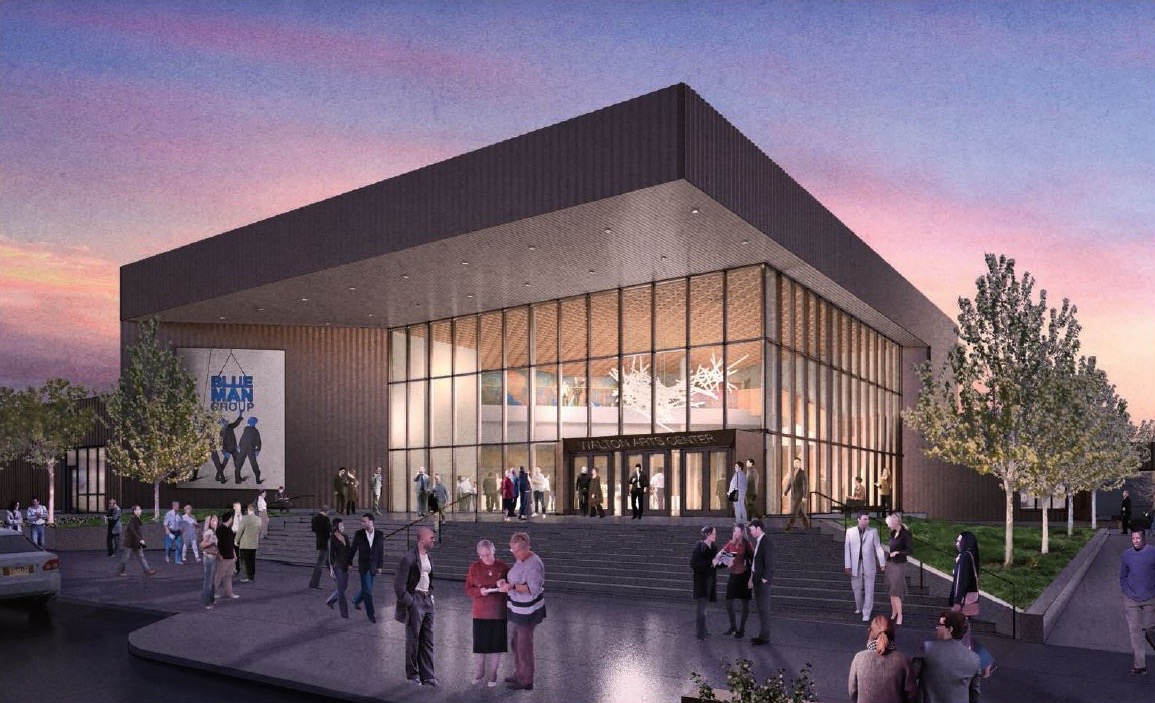 Over the summer, Walton Arts Center will close in order to finish construction and re-open in November for our recently announced 25th Anniversary Season, which includes a full and exciting Broadway series! The new Atrium will be expanded to reach to the corner of Dickson and West in order to enhance the patron experience. This space is currently framed and nearing the phase in which the current temporary lobby wall will be demolished to fully tie the expansion together. When completed, the two-story, glass enclosed atrium will fully integrate the theater into the entertainment district, allowing passersby to see what is occurring inside the lobby, and vice versa. This expansion will revitalize and reinvigorate the arts scene on Dickson Street.
Many lovers of the arts have stepped up to Play a pART in the expansion of Walton Arts Center, but there is still time for you toby inscribing your name on a brick or commemorating your favorite artist who has performed at Walton Arts Center over the years in the new Underwood Family Plaza. There are also opportunities to leave your mark and remind all theater-goers of your love of the arts by engraving your name on a chair in Starr Theater or Baum Walker Hall. For more information, visit our website to see our virtual tour, learn about the impact of the expansion on Northwest Arkansas, or email playapart@waltonartscenter.org! Together, we're building a better place to live.