Arts Provide Platform to Connect Cultures
Walton Arts Center CEO Peter Lane recently returned from a trip to Hong Kong where he attended the 2018 Vocal Asia Festival. Now in its seventh year, Vocal Asia and its founder Clare Chen are the inspiration behind Walton Art Center's annual a cappella festival, VoiceJam.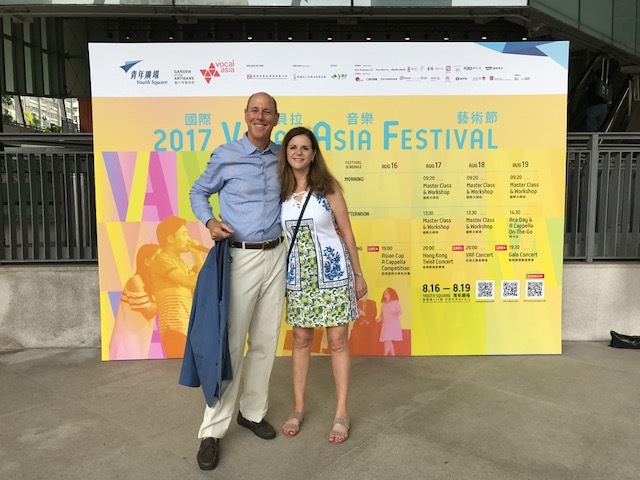 Chen approached Walton Arts Center about starting VoiceJam because she wanted to create a premier a cappella festival in the U.S. and connect it to the broader world of a cappella.
"Clare reached out to us four year ago, at a time when we were looking for new ways to engage high school and college-aged audiences in the arts," Lane said. "A cappella was becoming very popular and more mainstream because of "The Sing Off" and Pitch Perfect so it was a natural partnership for all parties."
A cappella: a cap·pel·la [ kə'pelə ] voices only.
Groups that keep experimenting with the art form, like Pentatonix or Straight No Chaser, keep inspiring the next generation of acapella groups. Walton Arts Center's 2017 VoiceJam Festival, just in its third year, included five groups from around the country and one from China.
"Clare loves the art form and has been working for years to create opportunities for a cappella in Asia," said Lane. "She developed the Vocal Asia Festival to attract the best groups for competition, to help teach and inspire new groups and to promote the cultural literacy between nations."
While Vocal Asia Festival happens just once a year, Chen spends the rest of her time leading the Vocal Asia organization, which focuses on providing a cappella education throughout the countries of China, Philippines, Taiwan, Singapore, Korea and Japan.
Ten teams completed in the Vocal Asia Festival this year, while Narin - a five-person group from Korean - took first place. Lark, 2017 VoiceJam winners, also made a performance at the festival. In turn, Narin will perform during the 2018 VoiceJam Competition on April 7.
"Watching these groups from different countries interact together with music as their language was invaluable, especially in today's world where there are so many walls that can separate us," Lane said. "It just reminds us that the arts are able to transcend cultural differences."
… This is not your grandmother's a cappella. This is current music and old music made current by extreme vocal range and control, tight harmonies, sick beats and vocal percussion… Whether you want to compete, learn or listen, VoiceJam has something for everyone.
VoiceJam 2018
Video audition submissions for 2018 VoiceJam will be accepted from Wednesday, Nov., 2017 until Wednesday, Jan. 31, 2018.
Competition finalists will be announced Mon., February 3.
Don't want to compete, but you're interested in learning more about a cappella? Sign up to attend the VoiceJam workshops on Sat., April 7. For more information, visit waltonartscenter.org/voicejam.